All Apple employees will get standing desks — and Tim Cook has said he believes 'sitting is the new cancer '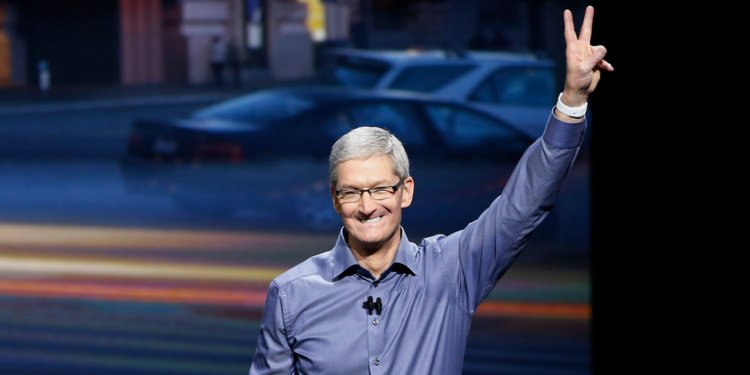 Tim Cook
Apple CEO Tim Cook. StephenLam/Getty
Apple CEO Tim Cook recently disclosed an interesting detail about ApplePark, the company's new headquarters: Everyone gets a standingdesk ."It's much better for your lifestyle," Cook said in a recent interview.
Cook has previously cited doctors who say "sitting is the new cancer."
Most of what happens inside Apple Park, the iPhone company's stunning new headquarters,is top secret.
But Apple CEO Tim Cook recentlydisclosed one new detail about the work environment: Everyone gets a standing desk.
"Wehave given all of our employees, 100%, standing desks. If you can stand for a while, then sit, and so on and so forth, it's much better for your life style,"Cook said in a recent interview with The Carlyle Group's David Rubenstein published on Wednesday.
He then encouraged the billionaire financier to stand with him — just like a prominent feature on the Apple Watch.
Cook has previously cited doctors whosay "sitting is the new cancer."
"We have alot of people using the Apple Watch at Apple, and 10 minutes before the hour,suddenly they all get up and move. It took a little to get used to, but it'sgreat," he said ata Goldman Sachs conference in 2015.
The ability to use a standing desk is only one of a slew of perks available to Apple employees at the company's new headquarters, which was rumored to cost over $5 billion to construct.
Apple Park is built to blur thelines between the largely glass "spaceship," or "ring,"building and the carefully landscaped campus outside.
That campus is full of fruit trees,and the on-campus "Caffe Macs" cafeterias actually use those fruitsin its lunches and dinners. There's also a massive gym and a shuttle service to take workers to satellite offices and the company'sold headquarters, which is a 10-minute driveaway.
That's noteven mentioning the furniture insideApple Park, which has been carefully hand-selected. Here are some ofthe pieces we know about: In addition to a standing desk, workers get desk chairs madeby Vitra, which cost $1,200. Common areas and cafés are dottedwith chairs designedby Naoto Fukasawa that cost $2,500.Many tables are 18-foot-long oak slabs, which are custom aswell.
Apple didn't respond to a questionfrom Business Insider about the specific model of standing desk its employeesuse. Interior photos published in TheWall Street Journal show desks that can be raised and lowered.
A Wired feature aboutthe campus included some details about the desks as well as aphoto of their controls:"The desk itself is height-­adjustableand went through multiple versions, mostly involving differentconfigurations of the brackets that fix it to the wall: These contain the fiberfor connectivity as well as electrical wires. (It would be a crime to see themdangling.) To bring the desk up or down, there are two buttons underneath.Users can tell them apart by feel: The convex one raises the table, the concavelowers it."
One reason a company would invest somuch in a new building is to help it recruit highly paid software developersand tech workers, who have other options for employment but could be persuadedto work in a beautiful architectural landmark.
Cook and Apple seem happy with ApplePark. In the interviewwith Rubenstein, Cook said the Apple cofounder Steve Jobs "hadthe vision that the workplace should facilitate people working together,"with "common areas that people could work together and run into each otherwithout planning on doing it."
"Andthat the level of ideas and creativity and innovation that would come out ofthat would be phenomenal," Cook added."And we're seeing that."